A picket for peace

---
Seriously, I'm dirt poor. I can barely afford to eat, let alone pay for a lawyer. Just let me have my joke and move on. Everyone I mentioned? Your music is good, well done, and you deserve your fame. I just... y'know... don't like it :P.

Update: I actually like Kylie Minogue and most pop music now too.

I still like death metal and whatnot too, so it's an all's good type of thing :)
-----
2021 Kabs here - Woah, here's some repressed transgender feelings right there, eh? I enjoy all of those bands lol (I came out in 2016). I *OBVIOUSLY* liked the Umbrella song, but was repressing my feminine feelings so bad back then. Oy, it's good to have come out. WOOOOH, I LOVE ALL YOU POP IDOLS!!!

Also the guy below, I still love them. Yah, you'd be hard-pressed to find music that I don't like :D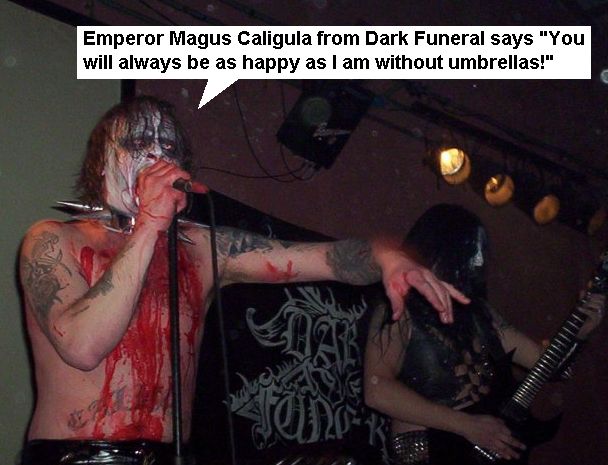 Emperor Magus Caligula from Dark Funeral says "You will always be as happy as I am without umbrellas!"



-
Soon
Ahh, so there we go. I must make this revelation heard. I will make it my quest to save society from a fate worse than Kylie Minogue!
So wait... why did you gather us all now?
To picket! To protest! To lobby, demonstrate, boycott, and rally against the current age of ultraviolent media... that soft, teeny, pop music!
Would this be a bad time to say that I like pop?
Just maybe.
Ok everyone... from the top. Lemme hear your protest chants!
DOWN WITH POP MUSIC!
DOWN WITH R&B!
Why are we doing this now?
I don't know, but keep going or she'll just blink us out of existence.
POP MUSIC IS EVIL!
R&B MAKES MURDERERS!
DARK FUNERAL, NOT DESTINY'S CHILD!
POP BEGETS VIOLENCE!
BEHEMOTH, NOT BEYONCE!
Good, good. Soon, we can begin saving the fate of society.
Seriously though, please don't sue me. I'm broke. It's just your music isn't my cup of tea. Rich, hot people don't need to sue my ugly ass. Please?
I make comics... joking is what I do!




Metroid, Samus, Kraid, and the rest of 'em are all property of Nintendo, who to my knowledge wouldn't do anything such as sue me or shut poor Planet Zebeth down, because they're so damn nice, and Metroid kicks ass : }
This particular comic strip was made solely by me, by that happy little program known as KolourPaint. Yes, the one that everyone runs in fear from. That's why the comic looks the way it does.